Meadowdale High School, in Lynnwood, Washington
Class of 1965
In Memory
Dolores Norman (Teacher)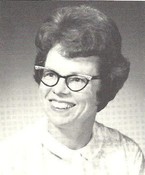 Dolores (Dodie) I. NORMAN (MHS Home Economics Teacher)
September 26, 1916
Anacortes, Washington
April 14, 2015
Seattle, Washington
Dodie was born in Anacortes, WA to Valentino and Maria Premo who immigrated to the U.S. from Northeast Italy before World War I. She attended the University of Washington in the late thirties, the first in her family to do so, graduating with a degree in Home Economics. Her teaching career spanned nearly forty years beginning with early assignments in Quilcene and Lake Chelan.
After a long courtship, she married Byron (By) Norman in Anacortes on Christmas Eve, 1941, just seventeen days after the bombing of Pearl Harbor. Not wanting to sit at home during the war, Dodie enlisted in the new Women's Army Corps (WACs) as a hospital dietician serving returning wounded stateside, rising to the rank of Captain.
After the war, Dodie returned to teaching and was on the faculty of Edmonds Junior High as well as pioneering Boys' Home Ec and Family Living classes during her years at Meadowdale and Lynnwood High Schools.
Dodie was not only a career teacher, but a loving wife, homemaker, mother and hostess. She was famous for stylish entertaining and her recipes were legend among friends and family.
Never idle in retirement, Dodie learned Ikebana, the Japanese art of flower arranging, and, at age 79, traveled to Japan to receive her "Board" (degree) from a master of the Ohara School. Not shy at the mic, and sporting a self-deprecating sense of humor, she was repeatedly selected as mistress of ceremonies for the annual luncheon of the local Ohara chapter. Dodie was an avid stamper who never forgot an occasion and lucky friends and family had the pleasure of receiving her beautifully crafted greeting cards celebrating their special days over the years.
She is survived by her two children: Barbara Norman Burn (Jim) and Thomas Norman (Madeline).
Dolores Iole Norman will be laid to rest next to her husband at Holyrood Cemetery in Shoreline. In lieu of flowers, the family encourages a donation in her name to the ALS Association,
www.als.org