Meadowdale High School, in Lynnwood, Washington
Class of 1965
In Memory
Lynes King (Teacher)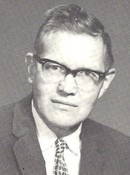 Taught Speech, World History, 20th Century History.
Thank you to Stan Stebing, Class of '66, for providing this obituary.
Walter Lynes King of Marysville, Washington, passed away on August 31, 1977 at the age of 62. He was born on March 23, 1915. He married Virginia Grace (Carson) King, R.N. in 1940 whom he met at Swedish Hospital. After strokes disabled Lynes in 1973, Virginia cared for him at home until his death in 1977. Virginia died peacefully on April 26, 2013 at age 99, surrounded by family at her home of 63 years.
Lynes enlisted as an officer in the Navy on February 11, 1941 and was a LCDR and served in the South Pacific. Following the war, Lynes and Virginia moved to Everett and opened King's Freeze, an ice cream parlor noted for both quality and innovative flavors. In 1948 they moved to Marysville and established an egg ranch on the King Farm, in the family since 1918. Nearby King Creek is named in honor of the farm and family. In 1959, Lynes began a teaching career in Edmonds School District.
Lynes and Virginia are survived by their children, Jeffrey King (Jessie Kitts) of Portland, Priscilla (Rod) MacMillan of Portland, Mary Sweet of Woodinville and Thomas King (Stacey Gleason) of Marysville; grandchildren, James, Jeffrey and Patrick Sweet, Anthony, Christopher and Michelle King.
Lynes was interred in Willamette National Cemetery in Portland, Oregon on September 15, 1977.
Information about Walter Lynes King was gleaned from Virginia Grace Carson King's obituary Published in The Herald (Everett) from May 4 to May 5, 2013
- See more at: http://www.legacy.com/obituaries/heraldnet/obituary.aspx?pid=164609409#sthash.6YH3d52N.dpuf