Meadowdale High School, in Lynnwood, Washington
Class of 1965
In Memory
Rick Johnson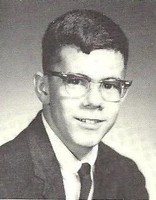 Rick died Sunday, Sept. 9, 2012. We were notified of his death by his son-in-law through Facebook on Sept. 14. Here is the message we received from his family:
Dear Friends of Rick Johnson, it is with great sadness that we inform you that Rick passed away Sunday, Sept 9. I am truly sorry if this is the first you are learning about this. We, his family, are trying to reach as many people as we can as quickly as we can. We are sending this notification from his Facebook account and will slate this account for deletion in the coming weeks. If you would like, please join us for a memorial celebration of Rick's life next Wednesday, Sep 19, at 1pm at University Presbyterian Church in Seattle. Please note the parking options at UPC could be scarce, so the church and family encourage carpooling (parking options attached, as well as hotel options if you are coming from out of town). Regardless of where you will park, come early and be prepared to pay for parking.

The family welcomes flowers, but also donations are being encouraged to University Presbyterian Church and the Union Gospel Mission, both in Seattle.
Thanks,
Tyler Parris (Rick's son-in-law)
parrista@yahoo.com
From Rick's MHS Profile page: After graduating from MHS Rick attended Everett Junior College, went on to Seattle Univ. and finished at UW with a major in business (marketing). After a short stint in the banking business he landed a job selling plumbing repair parts for an LA-based company that was a division of a Fortune 500. After 10 years Rick and his wife Sandy started their own wholesale plumbing parts company.
They have three children and six grand kids, so far. Two daughters work in the family business. Rick said he loved working with both his wife and daughters. Rick and Sandy are active in University Presbyterian Church where they frequently see Jerry Janacek, MHS '65 grad. They enjoy visiting family and love spending time in the dry, hot SW areas of AZ and CA. Rick was a member of the MHS '65 Reunion Planning Committee.
The Reunion Committee is sending flowers to the Sept. 19 service from: "Rick's loving classmates, Meadowdale High Class of 1965."